Bereaved by Suicide Response Service
CASA is engaging with local communities to provide a free brief service for people needing specific support for bereavement by suicide.
The service will be part of the range of services that support bereaved within their community.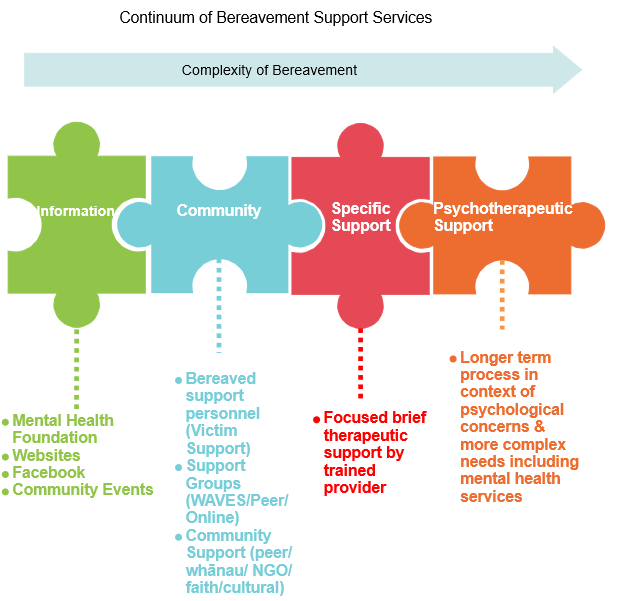 The service is a result of ongoing advocacy by many lived experience bereaved by suicide groups, the 2018 Government Mental Health Inquiry, and Tapu te Oranga o ia Tangata: Every Life Matters: Suicide Prevention Strategy 2019–2029.
It has been informed by a co-design process at the end of 2019 with stakeholders, lived experience groups, clinical and cultural expertise in suicide prevention and postvention, and recent literature.
We are currently at testing of the initial design phase, and design of the service will continue to evolve with a co-design process within each region as part of a national roll out of the service.
The initial community we are working with is Counties Manukau and we will update here as we roll out into other regions.
Pleased see the 'Frequently Asked Questions' sheet for further information.
Online service
Under COVID-19 CASA developed an interim online service for those bereaved by suicide during COVID-19, or whose bereavement was impacted significantly due to it. With services and supports now opening back up we are reviewing whether this service is still required.
We will continue to update our website with further information and communication as decisions and developments are made. Thank you for your patience and support whilst we look at how best to meet the needs of the bereaved online.
Nikki Coleman
Kia ora, my name is Nikki Coleman, I'm from Dannevirke and currently living in Christchurch with my family. I'm a social worker and cognitive behaviour therapist who really likes working with youth and adults from a range of different backgrounds.

The key values I bring to my work are team work, working with you and your family to makes the best difference possible for you. I also value listening to really hear what is going on for you. I have lived experience of grief but not from suicide. I currently work with a number of people bereaved by suicide and homicide. I work Monday -Thursday until 6pm.
Tracy Murdoch
Kia ora. My name is Tracy Murdoch. I am a child and family psychologist and have worked alongside children, youth and their families for 14 years for a range of different reasons. I live in Christchurch and enjoy reading, cooking and camping. In my family we have my 12-year-old daughter and my 21-year-old Stepdaughter and 18-year-old stepson.
I believe to be a part of a person's or family's situation, for whatever reason, is a privilege and I r work to ensure the preservation of a person or family's mana. Losing someone to suicide has many aspects that feel overwhelming at times, and your story and how it is for you, is important.
I work in a very transparent way and value open and honest communication. I believe you are the expert in what you are feeling, and part of my role is to listen and understand the situation from your perspective. I will support you to untangle the thoughts and feelings that sit alongside your story and to pursue your and your family's health and wellbeing.
The mahi that we do together will focus on what you need. One size does not fit all. I am available on Friday's 9.30am – 2.30pm and I have flexibility during other days for telehealth sessions. I look forward to hearing from you.
Suze Malcolm
My name is Suze Malcolm and I'm a Clinical Psychologist. I trained at Victoria University and graduated in 2000. I have been practicing in the Wgtn region for the last 20 years and have mainly worked in the areas of adult and young adult mental health. For the past decade, while I've been raising my family, I've worked in both private practice, again in general mental health, and also in the area of suicide prevention. Areas of specific interest to me professionally include anxiety, mood, trauma, grief and issues related to suicide.
I love my job as a clinical psychologist for a range of reasons but most significantly because of the relationship between science and humanity. As psychologists I believe it is our job to provide tools, that the research tells us work, to help clients ease whatever suffering may have brought them to therapy. However, in order for us to provide these tools we have to connect with our clients and develop a sense of trust and collaboration.
While I do work part-time due to the young age of my family, I endeavour to see clients as meets both our timing needs and availabilities. I generally work during school hours and can see clients face to face in my private practice office in the Wellington CBD on Tuesday, Wednesday afternoon or Thursday or I can see clients through video links or simply by phone.
Lauren Gaffaney
Kia ora. My name is Lauren Gaffaney. I am from Taranaki and currently live in Hamilton with my family.
I am a Clinical Psychologist and have loved working with children, youth, and adults who come from a range of backgrounds. I am also a Clinical Advisor for CASA (Clinical Advisory Service Aotearoa) working in suicide prevention.
It has been incredibly humbling to be a part of people's journey to achieve their goal of emotional wellbeing and help bring healing to people who have had stressful and traumatic experiences in their lives. Relationships and connectedness are key values of mine, and as a family, we thrive on doing things together like tramping and camping.
One of the most challenging things for us is to reach out for support. I am drawn to this area of work as I believe that every person should be able to access support to tell their story, process their experiences in a way that is safe, without fear of being judged, and that their story is honoured. Together, we can work on ways to help you process your thoughts, feelings and your experiences.
I am available Tuesdays and Wednesdays 9-5. I look forward to meeting you.
Gabe Couch
Kia ora, my name is Gabe Couch and I live in the Auckland region with my husband and 3 young daughters.  I am a clinical psychologist currently working with Community Advisory Services Aotearoa (CASA). 
I have primarily worked with children and young people in community mental health settings, but also with adults and in the area of suicide prevention and postvention for the last few years. 
I am motivated to do this work because of my own experience with losing loved ones to suicide and wanting to support others who are affected by suicide and reduce suicide in the community.  I value wellbeing.  I value relationships and working together with people towards health, wellness and a life worth living. 
I look forward to meeting you.  
*Registered Clinical Psychologist, BA; MSc; PGDipClinPsych; MNZCCP
Amanda Christian
Kia ora koutou
I'm Amanda Christian, I'm from Tamaki Makaurau/Aucklnd and my favourite place is being on the beach with a special connection to Taupo Bay/The Far North.
I work as a psychologist in the area of suicide prevention and postvention – facilitating a peer support group for bereaved others, supporting individuals and families through their traumatic grief, being an advocate for those bereaved by suicide and in community postvention service.
I live with my husband and we have 3 children aged 24-29. What brings me to do this work is that our daughter Amelia suicided in 2009; she was 16 years old. Although I have lived experience, I recognize that your experience might look quite different to mine.
I have always wanted there to be an accessible service for everyone who is bereaved by suicide that is free. I'm so excited that service have arrived for the bereaved.  
I believe that you can have a meaningful life again after someone you have loved has died by suicide. This may be hard to believe right now for you.
By working together, by having hope, by patience, by  listening & hearing, by respecting you and by all being done with compassion, I will do my best to assist you towards healing.
Liesje Donkin
Kia ora! I was born in Christchurch but have lived in Auckland most of my life with time in the beautiful Hawkes Bay, Palmerston North, and Sydney.
I have lived experience of suicide through whānau, and through friends. Through this, I found that there is limited support for people who are bereaved by suicide and think it's a hugely important part of the journey after suicide.
The values I live by are that you can grow from anything; challenge is important; diversity flavours life
My availability is Mondays, evenings, some weekend slots available.
Sandra Palmer
I live in Waipu in Northland and travel between Waipu and Auckland for work. I am a Registered Psychologist with a passion for supporting people in working towards wellbeing – whatever that means to them. I worked closely with Youthline for many years supporting adolescents and young adults as well as in private practice in South Auckland and central Auckland with all age groups. The focus of my work has been on working with the impacts of stress and trauma in a holistic manner – using body, mind, breath and spirit.
Values which guide my work are compassion, kindness and being authentic. I take a trauma informed approach to all my work.
When I am not working I love to be with family ( I have three grown up children), be on or near water, in nature, and practice and teach trauma informed yoga. I love living in sunny Waipu with my husband, dog, cat and 2 kune kune piglets.
My hours of work are Monday and Tuesday until 5pm and Wednesday until 1pm.